10/22/2020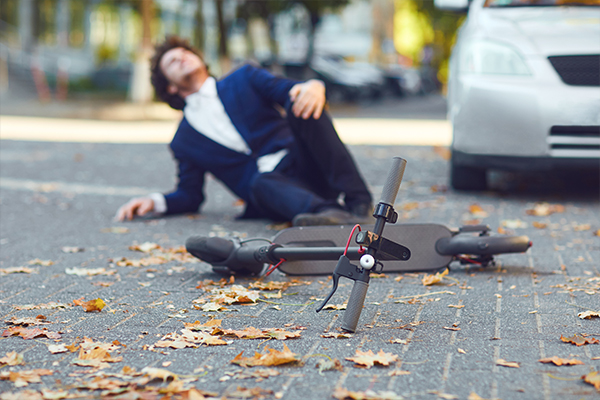 The COVID-19 pandemic has deterred many from public transportation and ride sharing. More and more are turning to an alternative form of transit namely - electric scooters, also known as e-scooters. These products are transforming how many are traveling our streets in cities across the country.
Piggybacking off the success of ridesharing and bike rental apps, electric scooters found widespread popularity in late 2017. They have been marketed as an inexpensive, simple mode of transportation to get across congested city streets. E-scooter companies such as Lime, Bird and Spin, have continued expansion into college campuses and smaller towns.
Motorized scooters made their first Chicago appearance in July of 2018, piloted by several brands. Presently, 2020, Chicago has granted permission to three shared e-scooter companies to operate pilots as stated in the City of Chicago's E-scooter Share Pilot Program. Bird, Lime and Spin launched 10,000 scooters citywide, but after only a few months of testing the technology, countless users have endured serious injuries.
Riders have poured into emergency rooms for injuries ranging from broken bones to facial lacerations and most concerning, head traumas. The numbers are alarming. A Consumer Reports investigation revealed 1,500 e-scooter injuries and eight deaths have occurred since late 2017 across the country.
The law is racing to keep up with this new transportation craze to put rules in place to provide safer use, but the lack of uniform policies and regulations surrounding how the companies should operate and what protocols users must follow have created hurdles for the public and lawyers. Most areas are consistent with their stance on sidewalk traffic and helmets. Although, many electric scooter apps recommend riders wear a helmet during operation, the companies neglect to provide helmets. Nor do the scooter companies assist in enforcing protective wear as many states, including Chicago, do not require helmets to be worn. The absence of rules poses serious danger to both users and pedestrians.
The most common concerns leading to injuries that are not the fault of the users are:
Manufacturing and design defects, including broken handlebars, faulty throttles, bald tires, malfunctioning brakes
Poor product maintenance
Sidewalk tripping hazards
Inadequate instructions and warnings
"The electric scooter companies are quick to place blame on riders for their accidents yet fail to accept responsibility for the countless injuries that are directly related to their product's faulty parts and poor upkeep," said Meyers & Flowers Founding Partner Peter J. Flowers. "Companies are claiming their consumers are aware of the risks and that the users agreed to their own liability, but the companies are not supporting their end of the deal when providing broken scooters."
According to the Washington Post, in August two mass torts were filed against the biggest e-scooter companies, Bird and Lime, after a string of class actions had been filed prior. The suit alleges the companies failed to properly maintain their scooters, resulting in injury to nearly 90 plaintiffs.
Our team of experienced Chicago attorneys has won hundreds of personal injury lawsuits and will walk you through your legal options after experiencing an electric scooter accident. Our goal is to help injured victims obtain the right compensation and justice they deserve. Please contact us at 877-221-2511 or [email protected] to explore your potential Bird scooter lawsuit, Lime scooter lawsuit or other shared scooter accident lawsuit.