Every year, thousands of people are injured due to unsafe property conditions or inadequate security. Property owners have a duty to provide safe conditions for those who are legally on their premises. In some instances, especially in cases involving children, property owners might have a legal duty to prevent injury to even those who have trespassed on their property.
Premises liability cases often arise in the following circumstances:
Slip and fall accidents
Unsafe sidewalks and parking lots
Unsafe parking lots
Defective stairs, porches, or balconies
Dog bites/animal attacks
Sinkholes
Dangerous objects
Sexual assaults
If you were injured in a manner not described above, consult with of our experienced premises liability attorneys to find out whether you have a claim. Property insurance is often available to cover such injuries. However, the property owner's insurance company and its attorneys will quickly become involved with the purpose of avoiding liability.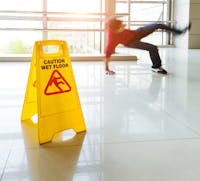 To protect your interests and your ability to receive full compensation under the law, it is important to contact an attorney about your potential injury claim as soon as possible.
Meyers & Flowers has some of the best premises liability attorneys in Chicago who understand such accidents often affect a person's ability to carry out day-to-day tasks and could impact their employment.
It costs nothing to meet with our premises liability attorneys in Chicago for a free consultation. There will be no fee unless we win your case.
For more information on premises liability cases, contact our offices to speak to a Meyers & Flowers premises liability attorney.