Ted A. Meyers, Partner
Founding partner Ted A. Meyers is a fourth-generation attorney who carries on his family's tradition of fighting for justice for the 'little guy'. Ted has a long and successful track record of taking on insurance companies that try to avoid their obligations to families whose lives have been upended by catastrophic events.
Every family deserves the same passion and commitment from their attorney that I'd demand for my own family.
Ted works closely with the firm's experienced trial attorneys to develop and advance creative legal theories to maximize client recoveries. Ted utilizes his passion for writing in the firm's complex motion practice and as the leader of Meyers & Flowers' appellate team.
Ted shares the firm's conviction that representing an injured client or a family that has lost a loved one does not end after a large verdict or settlement is secured. Even after a large recovery is obtained, families often face complex legal, emotional and financial challenges. Ted utilizes his experience as an estate and guardianship attorney to guide families through the numerous tax, estate and guardianship issues which often need to be addressed.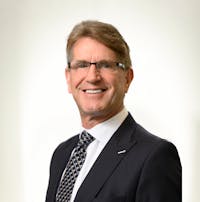 Ted attributes his success to the sage advice he received from his father:
"Being a successful lawyer and doing the right thing for your clients are not mutually exclusive--but are in fact mutually inclusive." When asked why Meyers & Flowers has been so successful over the years, Ted attributes it to working with a great team that share his passion for justice.
Ted is a graduate of the University of Notre Dame and worked as a computer systems analyst before attending law school at Southern Illinois University. Outside of his memberships with the Kane County Bar, the Illinois State Bar and the Illinois Trial Lawyers Association, Ted runs several private charitable funds and serves as a director on several private company boards.
Notable Cases and Results:
$105,000,000—Illegal increase of life insurance premiums.

$8,000,000—Underpayment of surgeons by preferred provider organization insurance company.

$3,000,000—Will contest

$2,000,000—Psychiatric patient escapes from ambulance restraints.

$1,000,0000—Supreme Court recognizes exception to social host liability.
AWARDS; HONORS; DISTINCTIONS:
Leading Lawyers "Leading Lawyers"

(2008-Present)




Trust, Will & Estate Planning
Commercial Litigation

The Best Lawyers in America "Best Lawyer" Personal Injury Litigation - Plaintiff (2022)

U.S. News and World Report "Best Law Firm" (2010-Present)