Patrick J. Herrmann, Of Counsel
After trying criminal cases for over 30 years, in Bureau County as a prosecutor, Attorney Pat Herrmann believes two things determine the outcome of a case, the provable evidence of the case and the lawyer's ability and willingness to present that evidence at a trial.
Pat was born and raised in Bureau County and returned there after obtaining his Bachelor's degree from the University of Illinois at Champaign-Urbana and graduating from Northern Illinois University College of Law. He was hired as Assistant State's Attorney in Bureau County upon passing the Illinois Bar Exam in 1984. He was promoted to First Assistant State's Attorney and then appointed Bureau County State's Attorney to fill an unexpired term in 1998. He won election for State's Attorney in 2000, 2004, 2008 and 2012, serving over 16 years as Bureau County's chief law enforcement official. He tried over 75 felony trials including Murder, Predatory Criminal Sexual Assault of a Child, Burglary, and Aggravated DUI cases involving significant injuries. He also tried approximately 100 jury trials on misdemeanor cases. In a small county such as Bureau County, the State's Attorney is the lead prosecutor in most, if not all, serious cases. Such was the case in Bureau County.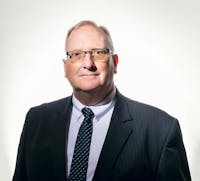 Many victims and victims' families are thrust into the justice system through no fault of their own and the justice system is completely new to them. Pat and his staff would sit down with victims and their families and hear their concerns and questions. Pat takes great pride and satisfaction in predicting a probable outcome and then obtaining that result on behalf of the victim and the state. It is this experience that Pat wishes to continue in representing injured parties and civil cases.
Pat comes from a blue-collar family that raised nine children. Working through college and law school, Pat developed an insight into understanding people and solving issues with practical common sense. He and his wife Charlotte are now raising four daughters of their own. After 30 years of public service, Pat is looking forward to helping people in the private sector. Working with Meyers & Flowers, LLC and Klint Bruno will be a wonderful way of doing just that.