The latest Medtronic urgent field safety notice is frightening. The medical device company is warning doctors, surgical centers and hospitals about its Mazor X Surgical System (SST2) – Positioner Type II. They found that the surgical device unexpectedly detaches from the operating room table and could fall on a patient during surgery. The company reported that this major malfunction could result in blunt injury leading to hemorrhage, hematoma, bleeding or fracture.
What is the Medtronic Mazor X Surgical System – Positioner Type II
The Mazor X has become increasingly popular as orthopedic and spine surgeons perform more robotic assisted procedures. The surgical system can be found in surgical center suites and hospital operating rooms throughout the U.S and worldwide.
Medtronics' Mazor X Surgical System is used to allow for the precise positioning of needed instruments, spinal screws or other medical implants during general spinal and brain surgery. It can be an important tool during open, minimally invasive or percutaneous procedures.
According to Medtronics, the Mazor X Surgical System is raised and mounted over the OR Table with the aid of an on-board automated lifting mechanism. This enables raising of the Surgical System over the OR Table and mounting it onto the operating room bed frame and then locking the device into place.
Urgent Safety Notice, Possible Injuries
Medtronic issued an urgent safety notice in the U.S. and UK in late 2019 warning surgical teams using Medtronic's Mazor X Surgical System failures. The notice outlined how the Mazor X Surgical System could unexpectedly detach from the from the operating room table and crash onto a patient after being securely attached due to a leak in a pneumatic locking system.
It is unknown how many patients have been injured during surgery by this major device failure. However, it is expected that injuries could range from massive bleeding, bruising and broken bones to debilitating nerve damage or other life-threatening issues.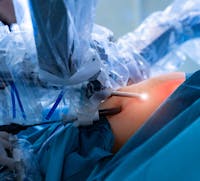 Meyers & Flowers is ready to help
If you or a loved one have been injured during a surgery where a Mazor X Surgical System – Positioner Type II was used, we can help. Meyers & Flowers understands what it takes to fight for those injured by defective medical devices and instruments. We have spent more than two decades helping clients seeking justice for themselves and their families. If you would like information about your legal recourse options, call or email us today.