The U.S. Food and Drug Administration (FDA) has published a notice that Zimmer Biomet recalled its Comprehensive Reverse Shoulder medical device in December 2016 because of a high fracture rate. The FDA has classified this recall as a Class I, the most serious type of recall, as use of these devices may cause serious injuries or death. A total of 3,662 shoulder replacement devices, distributed from October 2008 to September 2015, were recalled by the manufacturer.
If your shoulder replacement has fractured, if you have suffered a failed shoulder replacement, or if a revision of your shoulder replacement was required, you may have been implanted with a recalled Zimmer Biomet Comprehensive Reverse Shoulder.
At Meyers & Flowers, we are proud to represent individuals who have been injured by these devices. Our skilled defective product attorneys have a long history of significant legal victories, winning large awards for our clients.
What Is the Zimmer Comprehensive Reverse Shoulder?
The Comprehensive Reverse Shoulder is a shoulder replacement device manufactured by Zimmer Biomet to be surgically implanted in the shoulder to help restore arm movement. It was designed for use in patients with:
Rotator cuff tears who have developed arthropathy (severe shoulder arthritis); or
Previous shoulder joint replacement that has failed.
This device was designed for total shoulder replacement in a "reverse shoulder" configuration, which is a different procedure than traditional total shoulder replacement. It was intended for use in patients with a grossly deficient rotator cuff in the shoulder joint, along with severe arthropathy, or a grossly deficient rotator cuff and previously failed shoulder joint replacement.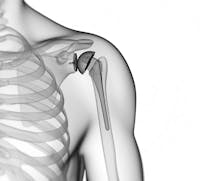 Why Was the Zimmer Shoulder Device Recalled?
As announced by FDA, Zimmer Biomet recalled these devices because they were fracturing at higher rate than the company had stated in its labeling.
If the device fractures, it can result in the need for revision surgery, which could have serious health consequences, including infection, permanent loss of shoulder function, and in rare cases, death.
Even under the best of circumstances, a successful shoulder replacement is a challenge, because patients who undergo the surgery typically have very little bone stock on the shoulder side of the scapula (shoulder blade). Most shoulder replacements (including Zimmer Biomet) rely on screws to attach the implant to the scapula, which is very narrow at the point where the screws must be inserted.
If the device fractures, the implant and the screws must be removed. This leaves large holes in the scapula, making it difficult for a surgeon to successfully attach a replacement implant. This significantly reduces the chances of successful revision shoulder replacement. Some patients who were implanted with the Zimmer Biomet Comprehensive Reverse Shoulder may not be candidates for revision shoulder replacement as the risk of complications is too high.