Train accidents are far less common in frequency than car accidents, but nevertheless can be a tragic occurrence causing great physical and emotional pain. As with most mass transit accidents, very serious injuries or death often occur as a result of faulty equipment or the negligence of a train conductor. Complex issues, such as determining fault and insurance coverage, frequently arise in these cases.
If you have been injured in a train accident, it is vital for you to contact an attorney who is experienced in train accident litigation as soon as possible. Extensive investigations and expert study is required to fully determine the accident's cause and, ultimately, who is responsible. Meyers & Flowers provides among the best train accident attorneys Chicago has to offer. We ensure your interests are protected throughout the process and that you receive the full compensation you are entitled to.
What are the different types of train accidents?
Train accidents occur in many different ways. Sometimes two trains will collide, while other times, a train will hit a pedestrian or animal. Trains sometimes crash into cars, trucks, or motorcycles as well. Occasionally, a train will derail, causing injuries and trauma all by itself. In rare cases, train accidents occur as the result of terrorist attacks.
Regardless of what causes a train accident, a good attorney is mandatory for navigating the complex investigation that may ensue. It may be necessary to liaison with federal, state, and local agencies to determine who and what is to blame for the crash. If you've been involved in a train crash, the experienced lawyers at Meyers & Flowers will fight to get you compensated for your pain and suffering.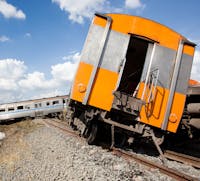 What typically causes train accidents?
Train accidents may be caused by technical issues, such as faulty equipment or poor infrastructure. However, the Federal Railway Administration reported that human error was among the most common reasons for train crashes a few years ago. There have been multiple rail accidents that occur when a train engineer is texting or is intoxicated. Other times, they may not have been properly trained in operating the train. Attorneys at Meyers & Flowers will delve deep to discover the real cause of your accident and how you can be compensated for your pain and losses.
What is the Lac-Mégantic rail disaster?
The Lac-Mégantic train derailment disaster occurred in Quebec on July 6, 2013.
Meyers & Flowers attorney Peter J. Flowers represented 41 of the 47 victims and was able to achieve a stunning $338 million settlement. Around 25 companies were held responsible for the death of 47 people and the destruction of the town of Lac-Megantic. Because the Canadian Pacific rail company has refused to accept responsibility, Mr. Flowers has launched an aggressive campaign to seek further compensation for the victims. Within the next 18 months, he will file a new lawsuit against the train company.
This case is just one example of how passionate the lawyers at Meyers & Flowers are about fighting for your rights. "We have driven the value in the wrongful death estate higher than our clients would have received under Canadian law," Mr. Flowers said. "This is just the beginning. We will turn over every stone on earth to ensure that these large companies such as Canadian Pacific, World Fuel Services, and Irving Oil are brought to justice and held responsible for this disaster."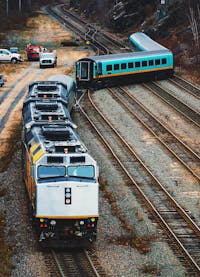 How can Meyers & Flowers help if you've been involved in a train accident?
Our firm has experience in all aspects of train accident litigation and relies on expert consultation to handle the scientific and technical facts involved in such cases. Our knowledge and resources enable us to ensure all responsible parties are held fully accountable for the tragic consequence of their negligence.
We understand that the time after one of these tragic accidents will be emotionally and financially straining. For those reasons, Meyers & Flowers' train accident lawyers work to ensure our clients' claims are resolved as quickly and effectively as possible, allowing them to move beyond this difficult period in their lives.
It costs nothing to meet with our attorneys for a free consultation. There will be no fee until we win your case. For more information on mass transportation accident cases, contact our offices to talk to a Meyers & Flowers train accident lawyer who specializes in this area.