Elmiron® (pentosan polysulfate sodium) is approved by the FDA for relief of bladder pain or discomfort associated with Interstitial Cystitis. Elmiron has also been prescribed by physicians as a an anticoagulant.
What is Interstitial cystitis?
Interstitial cystitis is a chronic condition causing bladder pressure, bladder pain and sometimes pelvic pain. The pain ranges from mild discomfort to severe pain. The condition is a part of a spectrum of diseases known as painful bladder syndrome.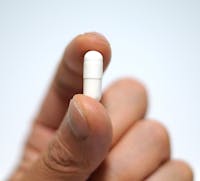 What are the problems associated with using Elmiron?
Numerous studies conducted by doctors from highly respected hospitals and universities have found a possible connection with Elmiron and severe eyes disorders that can lead to blindness.
Possible eye problems or side effects associated with long term use of Elmiron (pentosan polysulfate sodium) include but are not limited to:
Difficulty reading
Adjusting from well lighted room to a dark room
Blurred vision
Metamorphopsia (visual defect that causes linear objects, such as lines to look curvy or rounded)
Macular degeneration
Maculopathy
It is possible that eye problems will persist even after a patient has discontinued Elmiron.
How can Meyers & Flowers help?
Meyers & Flowers has a long history of helping patients who have been injured or harmed by dangerous drugs, such as Elmiron. Our team of medical malpractice and personal injury lawyers have a deep understanding of the many complex legal, medical and scientific issues relating to dangerous pharmaceuticals. Over the years, we have helped thousands of clients who have been injured or, in some cases killed, due to hazardous drugs.
We understand successful litigation against major corporations like Teva and Janssen starts with not only understanding the technical aspects of the case but also with how to properly present crucial information at each step of the legal proceedings from the very first case filing to the final jury summation.
If you or a family member have been injured due to taking the Elmiron, the Meyers & Flowers legal team can help. Contact the Meyers & Flowers team for more information about the Uloric warnings and your legal options. We can be reached at [email protected] or at 877-221-2511.
ELMIRON® is a Registered Trademark of Teva Branded Pharmaceutical Products R&D, Inc. under license to Janssen Pharmaceuticals, Inc.