May Firm Feature – Thomas M. Connelly
05/24/2021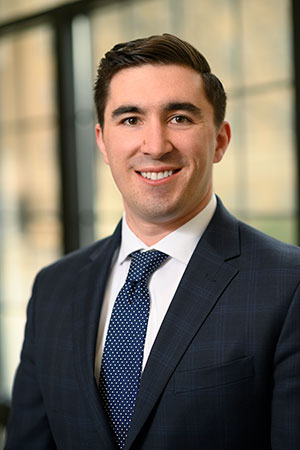 Thomas M. Connelly – Associate Trial Attorney
Thomas M. Connelly's interest in the law formed as a young child, watching both his grandfather and uncle work as police officers in the Chicago Police Department. When his uncle left the police force to become an attorney, Tom knew that he wanted to follow in his footsteps.
Taking the next step towards pursuing his passion, Tom earned his undergraduate degree in political science at the University of Illinois Urbana-Champaign. By spending two years in the business world before law school, Tom developed the negotiation and communication skills required to successfully represent his clients. He then launched into the legal field, attending law school at the Northern Illinois University College of Law.
After graduating summa cum laude from law school in 2019, Tom hit the ground running becoming an attorney at Meyers & Flowers immediately after graduation. With a strong devotion to serve the community he lives and works in, Tom quickly established himself as a successful attorney who tirelessly works to meet his clients' needs and goals. Over the past two years, Tom has received tremendous results for his clients who have been injured both physically and mentally. He is actively involved in the firm's product liability practice involving defective medical devices such as hip and knee replacements, in addition to the firm's personal injury, medical malpractice, and wrongful death practices.
"As an attorney, clients put a great deal of trust in me. I strive to be an advocate that people can have unwavering faith in during their time of need. Many clients have been injured both physically and mentally and I work to show them that justice can be achieved," said Tom.
Here is what Tom has been working on lately:
Resolved Over 150 Cases for Victims of Defective Medical Devices
Under the direction of Partner Peter J. Flowers, Tom assisted in securing settlements for over 150 clients who were victims of failed orthopedic implants in the last year alone.
$1 Million Settlement for Aurora Man Injured by Negligent Truck Driver
In just two years since graduating law school, Tom Connelly, alongside Partner Craig D. Brown, obtained his largest personal injury settlement to date having awarded a $1 million settlement to a 57-year-old father of four who sustained serious injuries due to the negligence of a semi-trailer truck driver. On February 12, 2020, Jose and his friend were driving eastbound on I-88 at approximately 3am on their way back to Aurora after picking up scrap paper in Dekalb when without warning a truck violently struck the back of their van. Jose was severely injured, requiring him to be airlifted to the nearest hospital where he was found to have suffered multiple rib fractures, injuries to his right arm, damage to his right eye and a mild traumatic brain injury. During his extensive hospital stay, Jose was required to undergo wrist surgery and an operation to repair his orbital fractures in order to save his eye. Now over a year later, Jose still has lingering back pain that prevents him from performing any strenuous activities and is haunted by the emotional trauma of the accident.
Despite Jose's life-changing injuries, the defense did not offer a settlement prior to our team filing a lawsuit and disputed liability. The Defense alleged Jose was guilty of comparative fault because he was operating his van at an unreasonably slow speed while his taillights were inoperable. Through compelling evidence found during discovery, Craig and Tom were able to demonstrate that the Defendant failed to keep a proper lookout and thus his negligence was the sole cause of the crash. Our trial attorneys' fierce advocacy convinced the Defense to change their position and negotiate a settlement to award our clients the Defendant's full $1 million policy limit.
"I am grateful that we were able to take care of our client in desperate need of help. We were able to act swiftly to resolve Jose's case in little over a year from filing despite potential delays by the COVID-19 pandemic, incurring minimal litigation expenses in order for Jose to obtain the maximum amount of recovery to receive additional therapy and regain his quality of life. It was an honor to represent Jose and his family," said Tom.
$700,000 Settlement for Naperville Couple Injured by Negligent Teen Driver
On April 14, 2018, Ed and Carol were driving home from dinner. They were exiting a parking lot in DuPage County when they were violently struck head-on by a teen driver who lost control of his large pick-up truck. Despite Ed & Carol's serious injuries, the defendant did not offer a settlement prior to trial attorneys Tom Connelly and Jonathan P. Mincieli filing suit on behalf of their clients. The Meyers & Flowers attorneys were able to obtain favorable deposition testimony from the Defendant, who admitted to driving too fast for the conditions. This favorable evidence caused the Defense to offer fair compensation within just 11 months of filing the suit.
"While we will always have our injuries, we are very happy with the settlement that Meyers & Flowers was able to negotiate. The team at Meyers & Flowers worked hard for us and showed us empathy. We thank them for all that they did for us," said Ed.
$550,000 DuPage County Settlement with Naperville Retail Store for Slip and Fall
Trial attorneys Tom Connelly and Craig Brown worked together to obtain a $550,000 settlement for a 74-year-old Sugar Grove man who was injured after a fall at a Naperville retail store. While testing out the hot tub, Bill's foot slipped out from underneath him and he fell backward, striking his head, neck, back, and arm on the tile floor. Sadly, for about two years, Bill's injuries affected his daily life and held him back from enjoying his retirement. To recover necessary funds for Bill, Craig and Tom filed a lawsuit against American Sale for premises liability, alleging that the store failed to provide a reasonably safe surface for Bill to exit the hot tub. The insurance company attempted to dimmish Bill's case value arguing that his medical treatment was excessive. On account of several favorable depositions, Tom and Craig invalidated any potential argument of comparative fault and changed the Defenses' stance to award Bill with a high value settlement of $550,000 to cover his medical needs and compensate him for his pain and suffering.
$492,000 Arbitration Award for Geneva Woman Injured by Negligent Driver
In March of 2017, Pat was driving home from work as a nurse when a teen driver plowed through a stop sign and collided into the front of Pat's car. Pat suffered injuries spanning the entirety of her body which required extensive medical treatment, and later culminated in a total hip replacement surgery. Alongside Craig Brown and Jonathan Mincieli, Tom filed a lawsuit against the Defendant. Despite the insurance agency alleging frivolous defenses and refusing to pay fair compensation, the team faced challenges due to Pat's long history of past back and hip pain. Therefore, the Defense never offered a settlement, claiming Pat's complaints of pain after the crash were a natural progression of her pre-existing conditions. Ultimately, the parties agreed to a binding arbitration because the COVID-19 pandemic prevented a jury trial. Due to compelling testimony – including advantageous statements from the Defendant's own expert witness – the judge awarded Pat $492,000 to provide some amount of relief for her pain and suffering.
$425,000 Settlement for Kane County Woman Injured in Disputed Liability Car Crash
With the collaboration of Partner Craig Brown, Tom provided vigorous advocacy to award Judy a $425,000 settlement after she sustained significant injuries from a rear-end crash by a teen driver who failed to stop for a school bus. The Defendant contested liability, alleging that Judy made a sudden and abrupt stop prior to the school bus fully activating its stop sign, and claimed that her shoulder surgery was unrelated to the crash. Based on the Defendant's groundless allegations, the Defense's first settlement offer was well below Judy's medical expenses. The team worked closely with Judy to disprove the frivolous allegations of comparative negligence and obtained favorable deposition testimony from Judy's treating physicians, inciting a negotiation to a very favorable settlement.
"My experience working with Meyers & Flowers was relieving because I could tell they had my best interests at heart. They were able to turn a negative situation into a very positive experience. Craig and Tom were fantastic! Tom answered all my questions and if he didn't have the answer, he made sure to find it right away. They were excellent communicators, giving me great updates on what was going on and being on top of everything. They really made a difference, and I am so grateful for that," said Judy.
Get to know Tom outside the courtroom:
What do you like to do when you are not working?
"Going out to eat with my wife and going to White Soz games (and other sporting events)."
Where did you grow up?
"Northside of Chicago"
Who are you a die-hard sport fan for?
"Chicago White Sox"
Click here to learn more about Tom