11/17/2020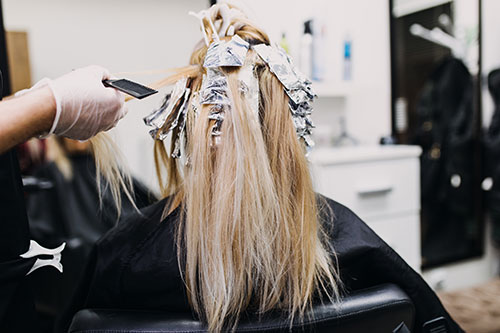 A Carol Stream teenager was awarded a $325,000.00 settlement after sustaining a chemical burn to her scalp due to the negligence of an unlicensed cosmetology student at Pivot Point Academy, a suburban Chicago beauty school.
On March 28, 2018, Stephanie, 17 years old at the time, visited Pivot Point Academy to receive a haircut and a color treatment, a routine procedure for the teenager. SD, an unlicensed cosmetology student, began the treatment under the supervision of her licensed cosmetologist and instructor. During the coloring process, as the cosmetology student began wrapping Stephanie's hair in foil, Stephanie described "a very strong burning feeling on the left side of [her] scalp." When Stephanie expressed her concerns to the student, Stephanie was assured that the burning sensation was normal and the student proceeded to finish the lengthy bleaching, coloring, and haircut process while Stephanie sat in excruciating pain, feeling too guilty to speak up once again.
After returning home, Stephanie's extreme discomfort persisted for several more hours. Stephanie's mother, Eileen, ultimately contacted the academy whose employees downplayed the severity of her injuries, stating that the burn was minor and discouraging Stephanie from seeking medical treatment. After Stephanie's burn did not improve over the next several days, Stephanie was forced to see both a board-certified pediatrician and board-certified plastic surgeon. Both physicians reported observing a 5x7 cm hairless, open wound. Stephanie's plastic surgeon discussed his findings and prognosis and recommended that Stephanie undergo a procedure known as a scalp reduction to repair the burn. After discussing the risks and benefits of the procedure with her family, Stephanie elected not to proceed with surgery.
Stephanie continues to deal with the ramifications of her disfigurement every day. For almost two years, the high school student had to exercise extreme caution in attempts not to worsen her wound. It affected all aspects of her daily life and held her back from her favorite activities; swimming, sleepovers, lunch at school, sports and countless other high school activities.
On the recommendation of a family member, Stephanie's family reached out to Michael Lenert, a Partner at Meyers & Flowers. "After my first consultation, I felt comfortable having the Meyers & Flowers team work on my case and fight for me. I felt like they had my best interests in mind at all times,"said Stephanie.
Led by Mr. Lenert, the Meyers & Flowers team worked closely with Stephanie and her family to earn rightful compensation and gain closure on this life-altering event. After a thorough investigation of the case, we elected to pursue a claim against Pivot Point Academy. Lenert alleged that Pivot Point, through the negligent acts of its employee and student, caused Stephanie's injuries.
"After conducting an investigation into these events, there was no evidence that the hair products used by the Academy were defective. Accordingly, it was our contention that the doctrine of res ipsa applied as the burns to Stephanie's scalp in and of itself was reasonable evidence that it arose from a want of proper care."
Despite Stephanie enduring tremendous emotional trauma and having her lifestyle as a young teenage girl completely upended, Stephanie's medical bills totaled only $2,000. Due to the lack of economic damages and a successful recovery from the burns, Mr. Lenert had to maximize his client's compensation by arguing that a high value must be paid for Stephanie's non-economic damages, including her disfigurement, loss of normal life, and physical pain and emotional suffering. "In a conservative venue with such limited economic damages, it was critical that we be able to illustrate the lifelong emotional toll of these events."
Another hurdle faced in prosecuting Stephanie's claim was a Hold Harmless Agreement she executed prior to receiving services at Pivot Point. Mr. Lenert and his team were able to successfully argue that the Agreement was invalid. "By immediately fronting this issue and providing our detailed analysis as to the invalidity of the Agreement, we were able to convince the Academy that it would be unsuccessful in raising such a defense."
After two years of working with Stephanie as she finished high school and entered her college years, the Meyers & Flowers team settled her case for $325,000.00.
"Mike was very considerate of how I was feeling and what I wanted, ensuring that I was happy with the results we got," shared Stephanie. "They were very compassionate and explained everything in detail so that I could understand what was going on in the case. The team wanted me to recover the best I could and referred me to other doctors and resources which really showed that they cared about me, not just my case."
Putting our clients first is at the forefront of everything we do at Meyers & Flowers. Our firm demands justice for those who have been forced to deal with unnecessary tragedy. If you or a loved one have been a victim of negligence, please contact our team of experienced attorneys at 877-221-2511 or online to request a free case evaluation.