On September 7, 2017, Medtronic announced a voluntary recall of specific lots of their Diabetes Infusion Sets used with all models of Medtronic insulin pumps. The recall is associated with problems with a component in these sets. The vent membrane can be blocked by fluid, which could lead to excessive delivery to insulin to patients, with the risk of causing hypoglycemia or even death.
Medtronic MiniMed Infusion Sets: Global Recall of Specific Sets
People who have been using the Diabetes Infusion Set manufactured by Medtronics may have suffered a serious medical emergency directly related to the over-delivery of insulin. People who suffer personal injury from the use of one of these medical devices have the right to seek full monetary compensation for all damages.
At Meyers & Flowers, our team of trial attorneys are advocates for the injured in cases of faulty medical devices. We can assist you to file a claim for compensatory damages if you or a loved one has suffered an adverse effect in using a Medtronics Diabetes Infusion Set. We urge you to connect with us immediately for more information on this important matter.
Recall of Medtronics Diabetes Infusion Sets After Reports of Medical Emergencies
This global recall of the Medtronics Diabetes Infusion Set was initiated after reports of hypoglycemia requiring medical intervention with patients using this defective product. Manufacturers of medical devices are held to a high standard – as they should be. In the case of patients requiring a specific safe dose of insulin for blood sugar level stability, the over-delivery of insulin can cause the body to absorb far too much blood sugar, leading to dangerously low blood glucose levels, a condition called hypoglycemia.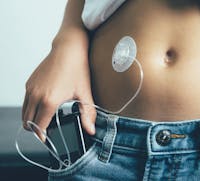 Symptoms of Hypoglycemia
Sweating, clamminess
Chills
Dizziness
Lightheaded, foggy
Anxiety
Nervousness
Shakiness
Speeding heart rate
Double vision
Blurred vision
Confusion
Unconsciousness
Seizures
Coma
Serious Cases of Injury or Death from Insulin Overdose
If you or a loved one has suffered a serious adverse health event requiring hospitalization and treatment, it is important that you contact the skilled advocates at Meyers & Flowers to help you pursue full and fair compensation. Cases of severe injury, such as seizure, coma, or death bring tragic consequences to the entire family, and the responsible party must be held accountable.
These infusion kits were manufactured to help patients inject the correct quantity of insulin, but this defective medical device produces the opposite effect.
Meyers & Flowers:
Your Advocate for Justice
Our team of experienced, knowledgeable, and dedicated trial attorneys is deeply involved in seeking justice for those injured by defective medical devices, and can provide you with information about moving forward with a case against the appropriate parties if you or a loved one has suffered serious illness, injury, or worse. We are relentless in our quest for justice for the injured. We are recognized for our many high-value awards and settlements, and take our duty to our clients very seriously. Call us today for more information about filing a claim for damages in a Medtronics Infusion Set injury or wrongful death case.