On December 15th, 2020, the U.S Food & Drug Administration (FDA) issued a letter announcing an urgent voluntary recall by the manufacturer of the JET 7 Xtra Flex catheter and the JET 7MAX configuration. Both devices are produced by the global medical device manufacturer, Penumbra. The FDA announced they had received more than 200 reports that these particular catheters were involved in "serious patient injuries such as vessel damage, hemorrhage, and cerebral infarction [stroke]."
If you or a loved one have suffered a serious injury during a surgical procedure in which the Jet 7 Xtra Flex catheter was used, you may be eligible for a lawsuit to secure compensation and damages awarded from the manufacturer.
When and Where the Jet 7 Xtra Flex Catheter May Have Been Used
The Jet 7 Xtra Flex catheters were introduced to market in July 2019 and were widely used by surgeons in thrombectomies—procedures done to remove a blood clot from inside of an artery or vein—for patients suffering from an acute ischemic stroke wherein a blood clot forms inside of an artery or vein in the brain and causes a stroke.
July 2019: Jet 7 Xtra Flex introduced to market
July 2020: Penumbra warns healthcare providers a defect in the distal tip could cause vessel damage
December 2020: Penumbra issues urgent voluntary recalls of all Jet 7 Xtra Flex catheters and a delivery device, the Jet 7MAX, due to 200+ reports to the FDA of serious malfunction, injury, or death.
Potential Injuries Have Included
The distal tip of the Jet 7 Xtra Flex catheter was found to have been liable to malfunction, expanding and fracturing mid-surgery. The tip may also have expanded or ballooned out larger than the width of the blood vessel it was inside, causing that vessel to rupture. This defect is now known to have resulted in serious injury including severe internal bleeding, stroke, and even death. According to the U.S. FDA's MAUDE voluntary reporting database, these injuries include:
Blood vessel rupture or damage
Brain hemorrhage and brain aneurysm
Internal carotid artery and choroidal artery rupture
Additional surgery
Stroke
Death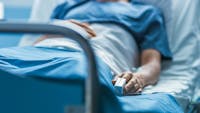 How We Can Help
If you or a family member may have been injured by Penumbra's JET 7 catheter, contact our nationwide Product Liability Litigation Team for help. At Meyers & Flowers, our legal litigation team is ready to help patients and their loved ones who may have suffered serious injury, adverse reactions, or death due to the JET 7 Xtra Flex. Our lawyers have a reputation for diligently fighting for the rights and protection of our clients in court. Contact us to discuss your legal options.
If you or a family member have experienced an injury and are in need of a Penumbra catheter lawyer in Chicago, Meyers & Flowers is ready to help. Contact the Meyers & Flowers team to explore your legal options. We can be reached at [email protected], filling out a free case evaluation, or at 877-221-2511.